The Ottawa Valley Button Club presented a display of First World War military uniform buttons from Southern Ontario and Quebec at Ottawa's Bytown Museum.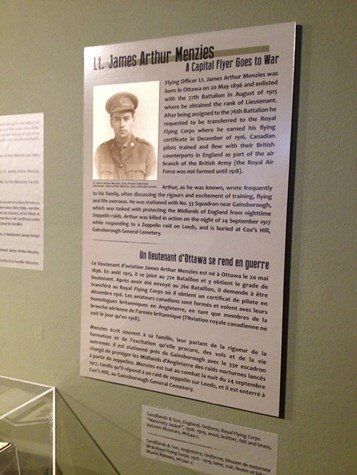 The exhibition was officially opened at a special reception held on Tuesday, April 8th. 2014. Arielle Hostetter, who designed and mounted the display for the club, was thanked by all club members. What a wonderful tribute to the men and women who fought in the Great War.
The following was written and presented by Arielle Hostetter:
The exhibition was on display until January 2015. "Ottawa Answers the Call: The Capital and the Great War" which "focused on the everyday citizens of Ottawa, both at home and on the front lines, and how the First World War truly changed our City."
Wonderfully varied, our buttons reflect the complexity and many layers that made up the Canadian Overseas Expeditionary Force. Buttons of brass, horn, leather and vegetable ivory will be on display but the materials of which they are made, pale in comparison with the number of symbols embossed on the buttons themselves.
There are unicorns, maple leaves, plenty of plump beavers, crowns, anchors, machine guns, and even a moose. Each button tells us about the role played by the wearer in the war. Doctors, nurses, dentists, veterinarians, chaplains, machine gunners, mounted soldiers, foot soldiers, sailors, admirals and flying aces, each had a uniform button of their own. Visitors explored the world of military buttons and the men and women who fought for so bravely for Canada.
We hope you enjoyed our display.