We welcomed our Dealers to Button: Keeing It Together...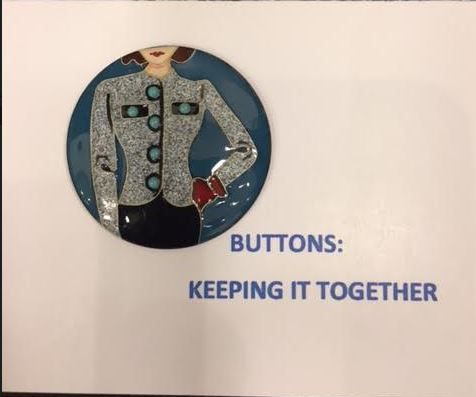 Bedford, Peggy (Toronto, Ontario)
Peggy has worked for 30 years in the financial industry as an IT specialist in various capacities. She has been collecting buttons since 1998 and selling them (mostly on Ebay and more recently Etsy) since 2000. She is a former director on the National Button Society (NBS) board and is currently a member of the New York State Button Society as well as Florida State Button Society. Her local club is the Pioneer Button Club in Oshawa, Ontario. www.etsy.com/ca/shop/PeggysPearls
Byl, Yessy (Edmonton, Alberta)
Yessy discovered buttons in 1995 and dove into button collecting and National Button Society activities. She is interested in many types of buttons, but truly passionate about black glass. She and others began the Edmonton button collectors group several years ago. Yessy was also a guest speaker, presenting on Friday night.
Cox, Aline (Edmonton, Alberta)
Aline is a member of the Edmonton Button Club and has found a treasure trove of glass buttons made years ago first in Ontario, then in Alberta. They are known as Alta Glass buttons and were produced for a very short period of time. Aline will bring some of these unique buttons for show and sale.
Davies, Evelyn (Ottawa, Ontario)
Evelyn admits that she started selling buttons in 2000 so that she could buy more buttons! She enjoys a wide variety of these little treasures. Some of her favourites are buttons depicting insects, realistic types, and tiny doll size diminutive buttons. She also collects buckles. You can often see her sell buttons at various Fabric flea markets in the Ottawa area.
Gravel, Micheline (Ottawa, Ontario)
Micheline became curious about these little gems when she was crafting with her son back in 1993... she had to find out more about these objects, and so she purchased a book on buttons, and was amazed by the wide selection of buttons and information out there. She was hooked! She loves the history of buttons mostly, and enjoys a wide variety of them. Each button tells a story! www.etsy.com/ca/shop/inspiredwithbuttons
Irons, Joanne (London, Ontario)
Joanne has been a collector her whole life. From post cards, dolls, rocks and stamps to picking treasures from her Grandmother's button tins. But it was buttons that stuck. And 30,000 buttons later, she has lots and lots of Buttons! An antique dabbler and dealer for over 25 years, Joanne sells online in her Etsy shop and is life member of the National Button Society. www.etsy.com/ca/shop/Buttongal
Macdonald, Melanie (Ottawa, Ontario)
Melanie is a button collector rather than a vendor. This will be her first adventure as a button vendor. Her passion is historical buttons and historical fashion buttons. Her collection ranges from Bronze Age Celtic toggles to the colors and fashion of the 1850s-1920s but centers on the buttons from the 1300s to 1700s, particularly the War of the Roses and the Tudor eras - Elizabeth I and Henry VIII. She will be selling some of these historical treasures in limited quantities as well as American Military and British Navy buttons from the 1700s to early 1800s.
Marks, Janice (Toronto, Ontario)
Janice is the daughter of John and Jackie Gooderham. Some of you knew her Dad, who started making paperweight buttons in the late 1960s. Janice started collecting buttons five years ago. Her favourite buttons are paperweights (of course!). She also collects buttons depicting Ladies Heads and cupids. She is now working with polymer clay to create buttons.
Mecey, Christy (Michigan, USA)
Christy started an antique business with her mother when she was still a teenager, and that business, Crazy Lady Antiques, continues today. She has collected and sold antique buttons for the past 15 years, and has served as the editor for the Michigan Button Bulletin and president of the Michigan Button Society. http://stores.ebay.ca/Crazy-Lady-Antiques-and-Buttons
Milberg, Carol (Kingston, Ontario)
Carol met her friend Danielle Scherter at an auction sale, first as competitors, and then as friends. Both drawn to antique jewelry, sewing tools, and buttons! Their fascination with buttons has lasted for almost 40 years throughout their travels in the US and Canada. Carol exhibits at antique shows within Ontario under the business name Milberg x 2. contact Carol to find out about upcoming shows at carolmilberg@yahoo.com.
Moynihan, Nancy (Ottawa, Ontario)
With a passion for sustainable practices, natural fibres and detailed hand work, Nancy uses up-cycled materials to create whimsical and colourful hand made buttons and button embellished products. As a knitter, she started making buttons about ten years ago for a hand knit cardigan, and those first small Dorset style buttons led her on a path to creating large (3inch) whimsical and colourful button brooches. Nancy sells her creations at artisan fairs throughout the greater Ottawa area. Her newest creations use glass buttons on mosaic glass works and garden decorations. http://trilicum.ca/knitacious/portfolio/
Muise, Jennifer (Dunrobin, Ontario)
Jennifer is a glass artist and daughter of Melanie Macdonald. She will have a selection of her paperweight and lampwork buttons for sale at Melanie's booth.
Scherter, Danielle (Kingston, Ontario)
Danielle is a vendor at the Collins Bay Market in Kingston, selling buttons by appointment. Her email address is dscherter@gmail.com. She will be offering, along with Carol Milberg, a wide variety of buttons, some interesting sewing tools, and 19th C shirt studs/cufflinks.
Smith, Susan (Ottawa, Ontario)
Susie started collecting when she found a box of china buttons in an auction job lot. Like others, it was the "hunt" that kept her fascinated. Today she shares some of her "finds" in sales, but no tintypes at her table, as she never lets those get away! Susie brought an assortment to the Button Show, concentrating on buttons to interest the new collector.
Wallace, Terry (Woodstock, Ontario)
Terry and his wife Donna are Militaria collectors and dealers. In the process of buying and selling various types of Militaria badges and medals, they have often obtained military buttons. They have been selling military and police buttons for about 8 years and sell at various military shows. His favourite type of buttons are the officers 2-piece buttons with silver over brass.
Webb, Carolyn (Toronto, Ontario)
"Button collecting has always been in my blood. As a young girl finding buttons on the ground I would squirrel them away. About twenty five years ago I saw a short story at the end of a slow news night about a button collector in the greater Toronto area. This was a revelation, button collecting was a hobby? Not only have buttons taken over a room at home, there are countless button shows, trips taken to find buttons, many wonderful button friendships, a term as a director for National and presently volunteering at Pioneer Button Club in the President seat. All because of a button (well many)!"

Wilde, Marian (Ottawa Ontario)
Marian is a collage artist who works with lace, ribbon, textiles, buttons and handmade paper. Her work is characterized by muted colours, which bring greater emphasis to the textures of the paper and lace. Mixing antiques and Victorian themes, her work offers a classical, pretty charm with more contemporary tones. marian@wilde-flowers.com