The Ottawa Valley Button Club is a group of people with a passion for learning about, preserving and displaying clothing buttons. All are part of the joy of collecting buttons that will take you on a fascinating discovery journey into the history, art, fashion, socio-economics, workmanship and production of buttons.
The OVBC offers you a relaxed and non-competitive opportunity to get together with others with similar interests, to swap buttons and button stories, and to network with members of other button clubs. Our members collect a variety of buttons from antique to military to modern. We meet eight to ten times per year and we encourage anyone who wishes to share in the personal enjoyment and fun of button collecting to join us!  (Meeting schedule)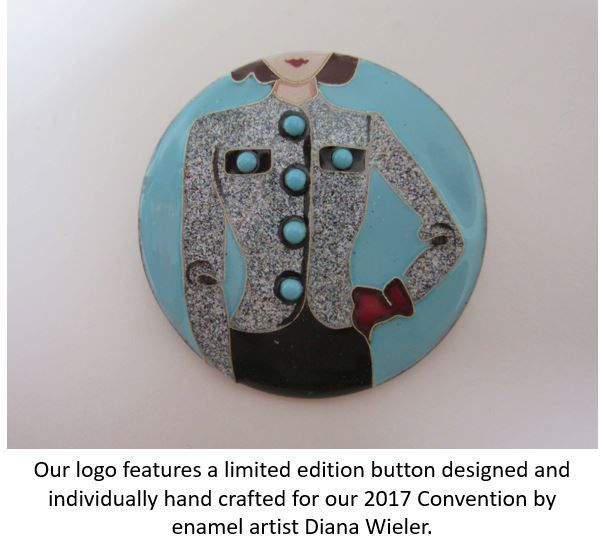 Our Logo
Our logo features a limited edition button designed and individually hand crafted for our 2017 Convention by enamel artist Diana Wieler. It features a unique grey tweed enamel and glass cabochon 'buttons'.  Diana has kindly granted permission for us to use it as our 'logo'!
Displays and Education Program
The Club is happy to share its expertise by doing a presentation about buttons or button collecting for your organisation or to providing a button exhibit on a variety of themes for an event, a library or museum. Photos on this page are examples.   For more information contact: ottawavalleybuttonclub@gmail.com
Rogers Daytime Channel 22 TV!
Tuesday, September 19, 2017 saw Sue Dickout, OVBC President, and Susie Smith interviewed on Rogers Daytime Channel 22 TV.